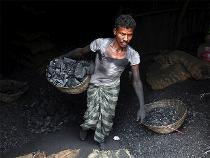 Coal India's output declines amid focus on clearing stockpiles
Coal India  Ltd.  BSE 1.47 %
COAL INDIA reported a year-on-year production decline for the second straight month and an increase in shipments, reflecting attempts by the world's biggest producer to cut inventories.
Output fell 4.3 percent from a year earlier to 40.74 million metric tonnes, the lowest in three years for the month of May, the company said in a stock-exchange filing. Shipments rose 1.9 per cent to 46.4 million tonnes.
Source: Economic Times