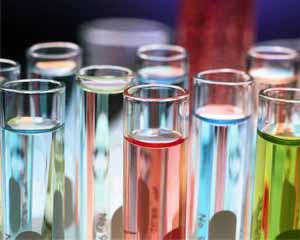 Chemical Industry to strengthen with pick up in realizations across the products
Indian chemical industry is a capital and knowledge intensive industry and plays vital role in the development of Indian economy, accounting for 2.11 percent of the Indian Gross Domestic Products (GDP). It is one of the most diversified sectors with more than 80,000 varieties of commercial products and the industry is the foundation of industrial and agricultural development of the country it also provides building blocks for several downstream industries like chemicals and other related products, petrochemicals, fertilizers, paints, varnishes, gases, soaps, perfumes, toiletry and pharmaceuticals.
The chemical industry is mainly divided into two categories — organic and inorganic chemicals. Organic chemicals cover over half of all known chemical compounds, and include petrochemicals, drugs, cosmetics, agrochemicals, etc, while inorganic chemicals comprises alkalis, dyes and dyestuffs. Based on a more functional classification, chemicals can further be divided into basic, specialty, Pharmaceuticals, Agro chemicals and Biotechnology.
India is the seventh largest producer of chemicals worldwide and third largest producer in Asia after china and Japan. It is growing at a significant pace since past several years and the industry is likely to achieve $200 billion mark by 2020 from around $145 billion at present, the government is rendering extensive support to give impetus to the Indian chemical industry and has set up the task force to consider suggestions for National Chemical Policy to ensure steady growth of the country's chemical sector. India accounts for around 16 percent of the world production of dyestuff and dye intermediates, particularly for reactive acid and direct dyes, while the country is currently the world's third largest consumer of polymers and third largest producer of agrochemicals.
Exports
The share of Chemical products in the overall exports for April-September 2016 stood at 12.07%, while export of Chemical products was at Rs 1,06,652.75 crore (Provisional) up by 2.86%, as compared to Rs 1,03,687.29 crore in April-September 2016. The country's highest export in value terms was in the month of July 2016 at Rs 18,514.34 crore, followed by Rs 18,481.87 crore and Rs 17,839.42 crore in June and September respectively. Of the total export of chemical and related products in April-September 2016, Drug Formulations and Biological contributed the most (39.71%), followed by Organic Chemicals (14.26%), Residual Chemical and Allied Products (11.70%) and Bulk Drugs, Drug Intermediates (10.51%).

Imports
The share of Chemical products in the overall import in April-September 2016 stood at 10.04%, while import of Chemical products for April-September 2016 stood at Rs 1,17,731.54 crore (Provisional), down by 11.50% as compared to Rs 1,33,028.19 crore in April-September 2015. The country imported highest in the month of June 2016 at Rs 22,331.55 crore followed by Rs 21,557.66 crore and Rs 20,923.30 crore in August and July respectively. Of total import of chemical and related products in April-September 2016, Organic Chemicals contributed over 27%, followed by Fertilezers Manufactured (16.21%), Residual Chemical and Allied Products (14.35%) and Inorganic Chemicals (12.17%).
Investments in Chemical Industry (Other than fertilizer)
The Government of India has approved 100 per cent foreign direct investment (FDI) in the chemicals sector. The Chemical Industry (Other than fertilizer) has attracted 4.12% of total inflows in terms of US Dollar. The sector has attracted Foreign Direct Investment (FDI) worth Rs 10,244.95 crore or $1,563.31 million in FY16, as compared to Rs 4,076.84 crore and $669.40 million in FY15.
Specialty chemical segment likely to witness significant growth
Specialty chemicals, also known as effect chemicals or specialties, manufactured either by a single chemical formulation or a combination of two or more than two chemicals whose composition significantly contributes to performance of the final product. The companies in the Specialty chemical segment are making a niche for products having higher and more stable margins. At present, the Indian specialty chemical segment is in encouraging stage and is characterized by substantially lower penetration against a user base that sees increasing globalization and higher disposable income. Moreover, positive macro-economic trends too are providing benefits to the specialty chemical segment
On the basis of product type, specialty chemicals business can be segmented as agrochemicals, polymers & plastic additives, construction chemicals, electronic chemicals, cleaning chemicals, surfactants, lubricants & oilfield chemicals, specialty coatings, paper & textile chemicals, food additives, adhesives & sealants and others. The Indian specialty chemicals sector is likely to attain $50 billion mark by the end 2018 on the back of strong growth outlook for end use industries i.e agrochemicals, personal care ingredients, polymer additives, water chemicals, textile chemicals and construction chemicals. The sector will also get some support with the increased adoption of specialty chemicals and their increased usage in different products categories. Paints coating and construction chemicals, colorants, Active Pharmaceutical Ingredients (APIs), personal care chemicals and flavors & fragrances are the specific segments that are expected to do well in the Indian market.
Petrochemical segment to grow considerably in coming time
Petrochemicals are obtained from different chemical compounds which are by-products of crude oil refining. The petrochemicals industry includes a broad range of products like olefins, ethane, propane, aromatic compounds such as benzene, toluene, intermediate petrochemicals, end products, polymers, synthetic fibres, and synthetic rubber. Currently, the level of penetration of the petrochemical products in routine use is increasing day-by-day. It basically cater most of the sectors such as apparels, accessories, household items, furniture, electronics, construction, housing, automobiles, medical appliances, packaging, horticulture, and agriculture.
Petrochemicals is one of the fastest growing segments of chemical sector with a growth of around 13%, which is more than double the growth of India's gross domestic product (GDP). The per capita consumption of polymers in India is estimated at 5.2kg as compared to per capita consumption of 30kg in China. India consumes around 6.2 million tonnes of polymers, which represents around 3% of global consumption of 200 million tonnes. The demand in rising gradually and to meet this increasing demand, the domestic petrochemical industry is preparing to spend over $25 billion. Hence, the Indian petrochemicals industry is estimated to reach $100 billion by the end of 2020 form around $40 billion at present.
Impact of GST on Chemical sector
The long-awaited Constitution Amendment Bill — Goods and Services Tax (GST) — was passed in the Parliament recently and is likely to be implemented by April 2017, replacing all the indirect taxes levied on goods and services by the Centre and States. This will surely improve the ease of doing business in the country. The chemical sector is plagued with the burden of complying with a multifaceted indirect taxation system and the current tax rate prevailing is between 24 percent to 26 percent. If the government agrees to cap the GST tax slab by around 18-20 percent, it will have massive positive impact on the Chemical sector. The trickle-down and cascading effects of the GST in other sectors such as logistics, manufacturing, automotive and consumer products too will impact the chemical and polymer industry.
Recent developments
Chemical companies urge Centre to set up cracker plant in Tamil Nadu
Chemical companies from the South have urged the Centre to facilitate the establishment of a naphtha cracker plant in Tamil Nadu to support investments in downstream industries. A Petroleum Chemicals and Petrochemicals Investment Region (PCPIR) proposed in the southern part of Tamil Nadu has remained on the drawing board, with a proposed oil refinery, the anchor industry for the PCPIR, being delayed. Tamil Nadu PCPIR was to have been developed along the lines of those coming up in Andhra Pradesh, Gujarat, West Bengal and Odisha. It was proposed in Cuddalore and Nagapattinam districts along the coast covering 256 sq km with Nagarjuna Oil Corporation, which is setting up an oil refinery, identified as an anchor tenant. However, the refinery project has been delayed due to financial constraints.
KINFRA to set up Rs 1864 crore Petrochemical Park at Kochi
The Kerala Industrial Infrastructure Development Corporation (KINFRA) has obtained in principle approval from the state government for setting up a Rs 1,864 crore petrochemical park in 600 acres of land to be procured from FACT at Ambalamugal, Kochi. The cost includes the cost of land and cost of internal infrastructure. The petrochemical park is proposed to be set up in Kochi which already has a large refinery, fertiliser and chemical factories besides LNG terminal & gas pipeline network being established and a Bulk Terminal and International Container Transshipment Terminal (ICTT). The proposal assumes significance in view of the expansion proposal of BPCL, nearness to the Port and Natural Gas infrastructure at the location. India's petrochemical industry has been one of the fastest growing industries in the country. Petrochemicals contribute about 30 per cent to India's $120 billion worth chemical industry which is likely to grow at a CAGR of 11 per cent over next few years and touch $250 billion by 2020.
Outlook
Indian chemical sector has been performing significantly well since last several years on domestic as well as global front. India is an important player in the global trade of chemicals, plastics and allied products. There is tremendous scope to increase its share in the global trade. This is also reflecting in the form of increasing exports. However, most of the players performance remained weak in FY16, with profit reducing on account of steep fall in chemical prices and inventory losses. But in FY17, the companies in the sector are likely to perform better, as realizations across the chemical products are picking up. Significant growth in specialty chemical and petrochemical segment will also provide fillip to the overall Chemical sector, as increasing consumption from high-end polymer industry and other user segments will help it to garner a growth in double digits in the next 10 years. Implementation of GST will also play important role in growth of the sector, as it will allow tax set offs across the production value-chain, resulting in a drop of the cascading effect of taxes and reduction in the overall production cost.
Source: Live Mint